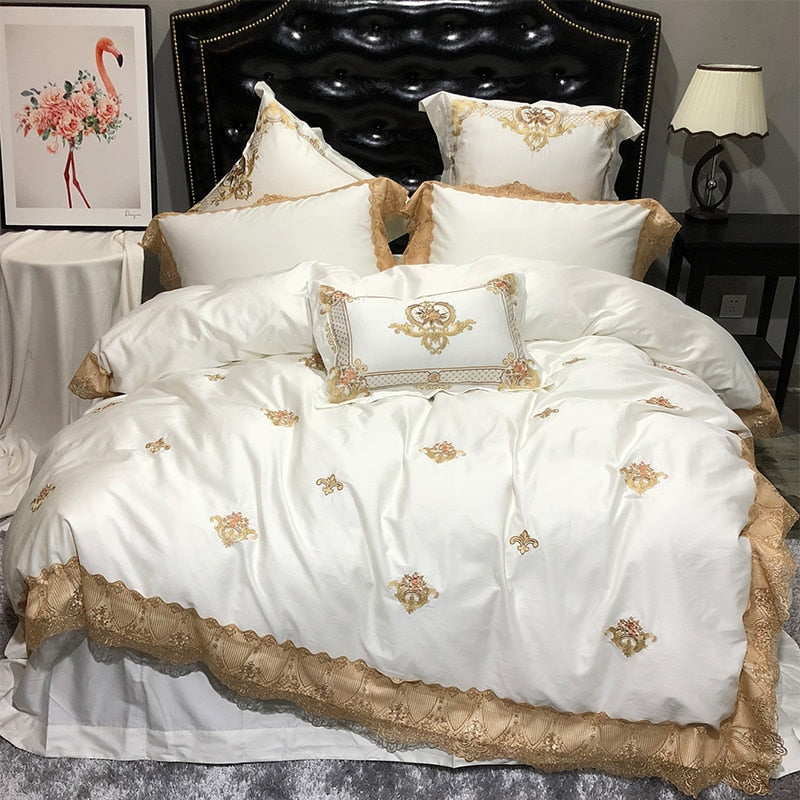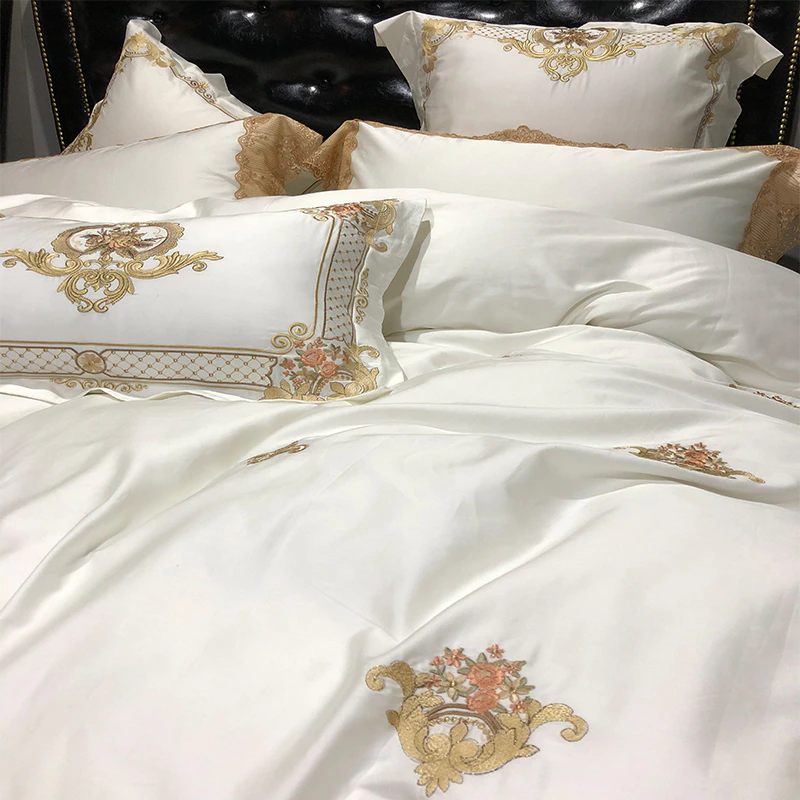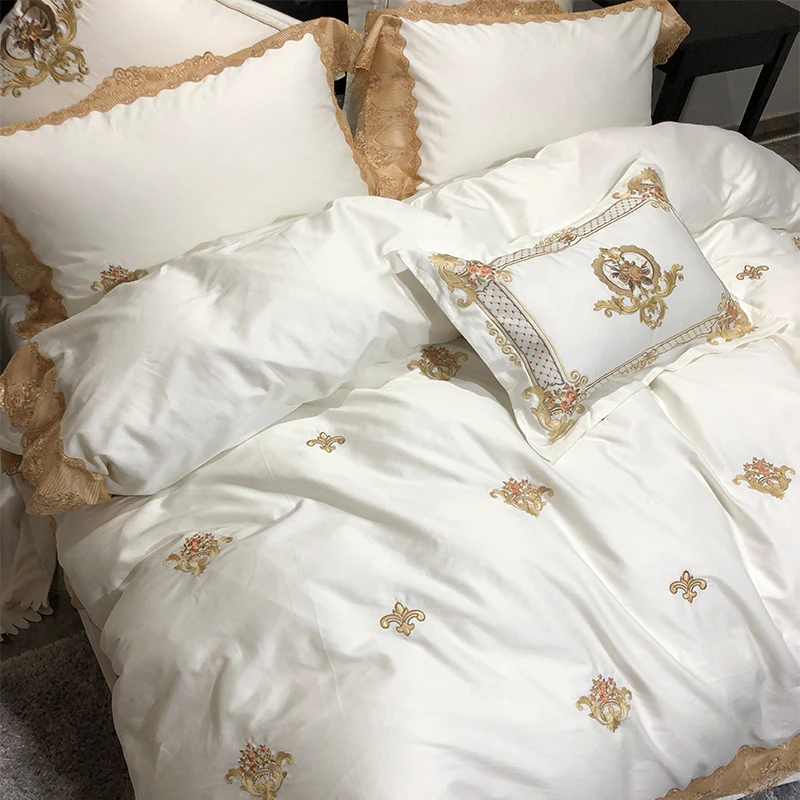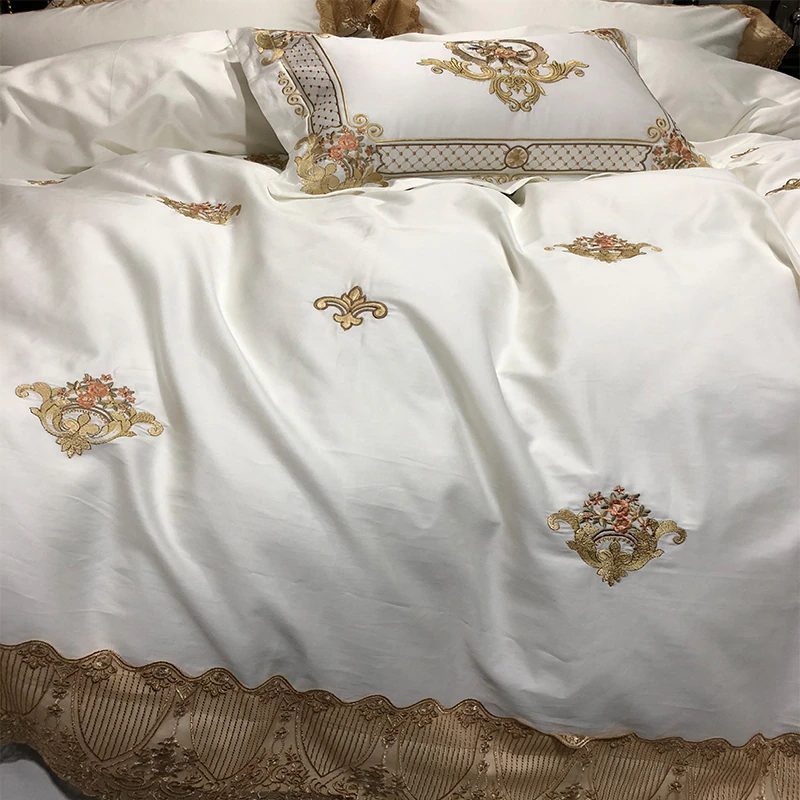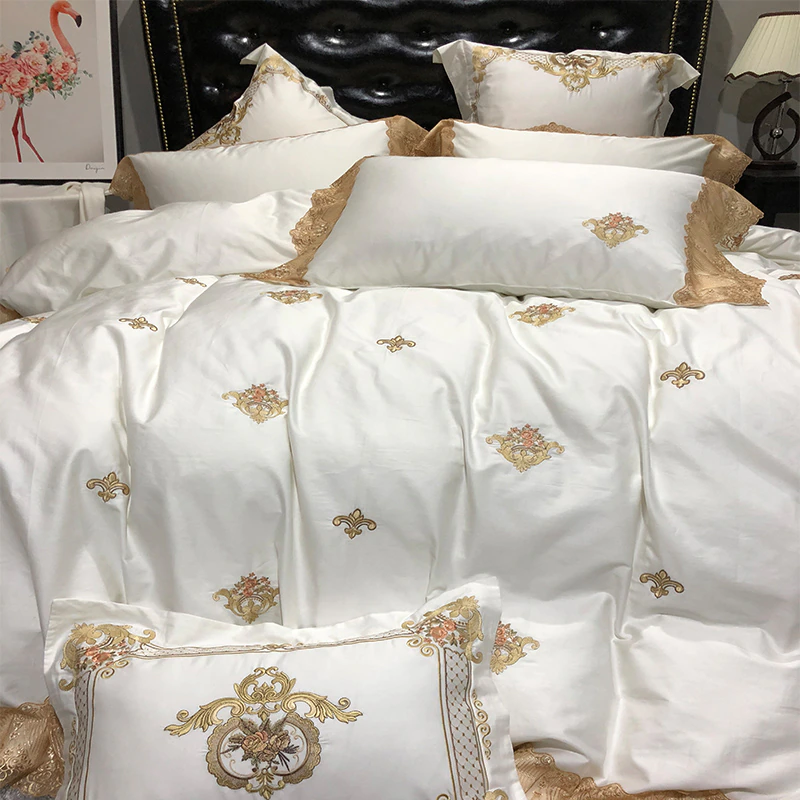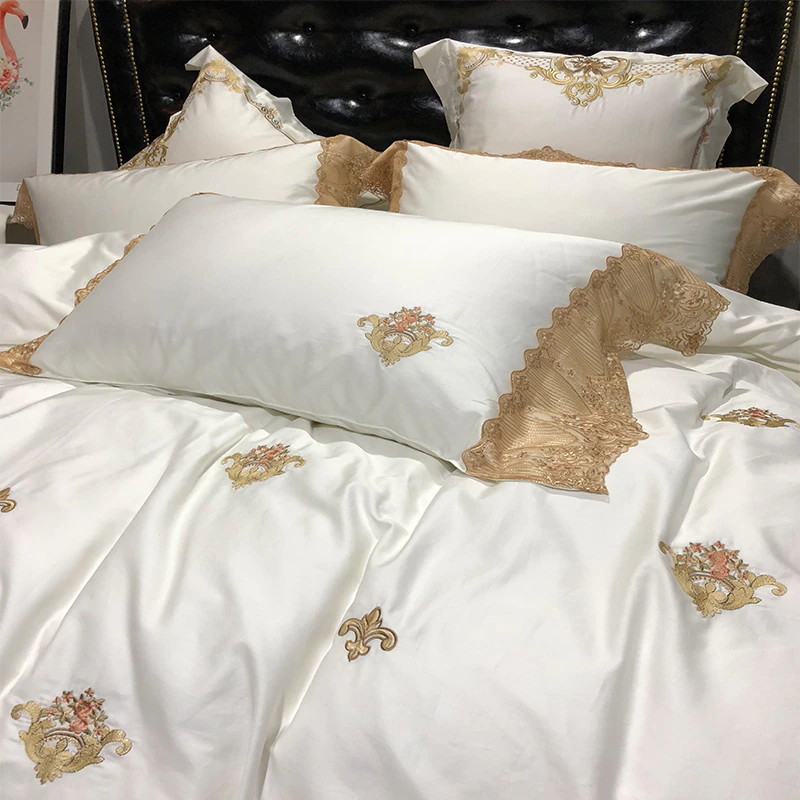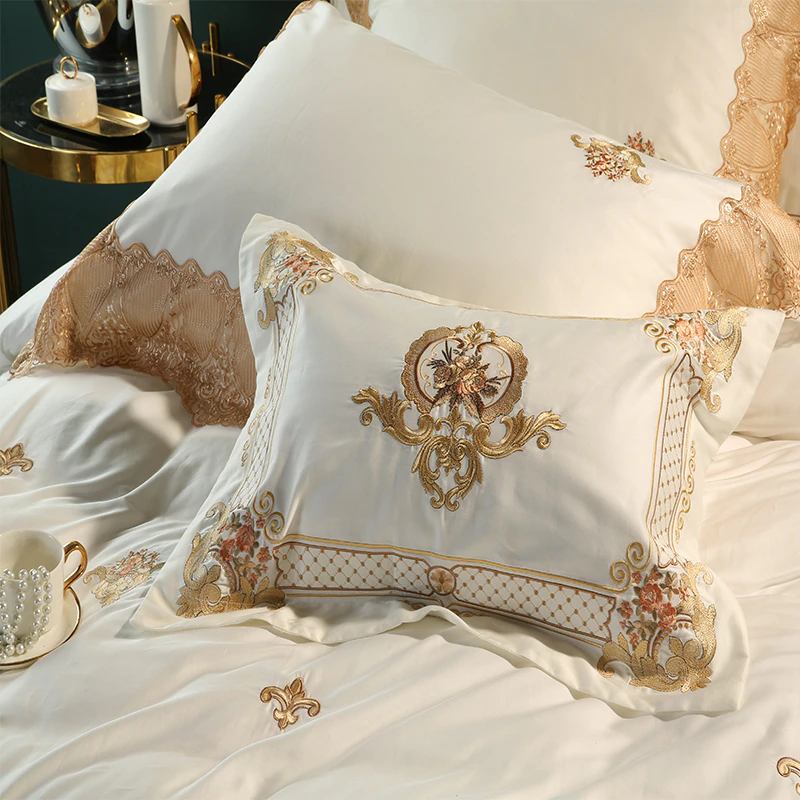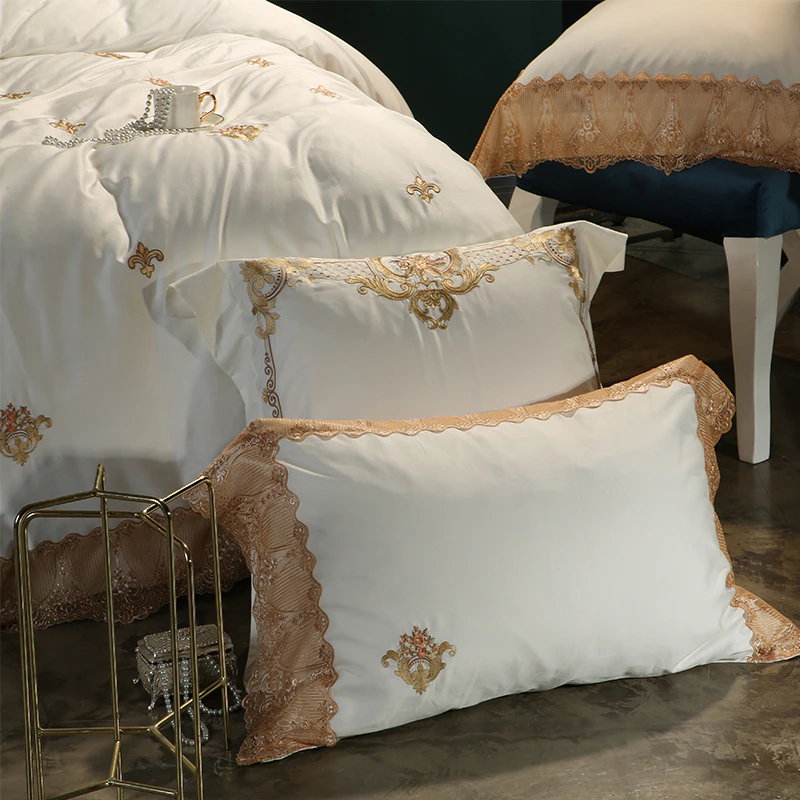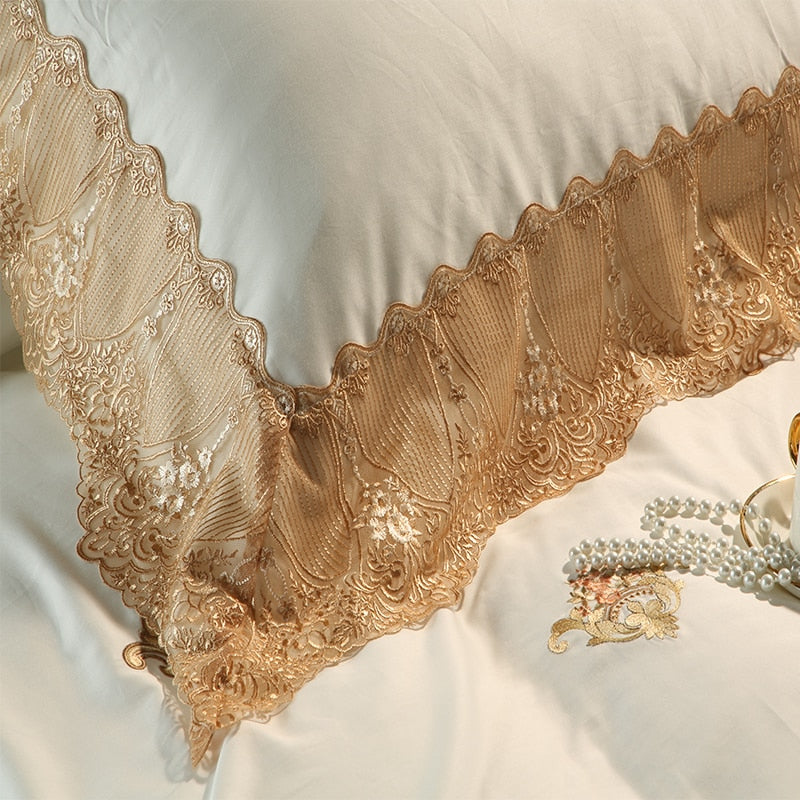 Introducing the epitome of luxury and comfort - our
Hortensia Egyptian Cotton Duvet Cover.
Crafted from the finest Egyptian cotton, this duvet cover envelops you in the softest, most sumptuous embrace, promising nights of unparalleled coziness. The superior craftsmanship and attention to detail ensure this duvet cover exudes quality and timeless sophistication.
Features:
It is meticulously crafted from the world's finest Egyptian cotton, ensuring a level of softness and luxury that's second to none.
Experience the perfect blend of breathability and warmth, making this duvet cover suitable for both hot summer nights and chilly winter evenings.
Elevate your bedroom décor with the timeless elegance of our Hortensia pattern, a work of art that transforms your sleep space into a visual masterpiece.
Our duvet cover comes in a generous size to fit your comforter snugly, ensuring it stays in place and looks stunning on your bed.
Product Specifications:Material:
100% Cotton
Sizes:Flat sheet style
Double Size 4pcs
1 piece Duvet Cover: 200*200cm(79*79inches)
1 piece Bedsheet:245*250(96*98inches)
2 pieces Pillowcases:48*74cm(19*30inches)
Queen Size 4pcs
1 piece Duvet Cover: 200*230cm(79*91inches)
1 piece Bedsheet:245*250(96*98inches)
2 pieces Pillowcases:48*74cm(19*30inches)
King Size 4pcs
1 piece Duvet Cover: 220*240cm(87*94inches)
1 piece Bedsheet:245*270(96*106inches)
2 pieces Pillowcases:48*74cm(19*30inches)
US Queen Size 4pcs
1 piece Duvet Cover: 230*230cm(91*91inches)
1 piece Bedsheet:245*270(96*106inches)
2 pieces Pillowcases:48*74cm(19*30inches)
US King Size 4pcs
1 piece Duvet Cover: 264*230cm(104*91inches)
1 piece Bedsheet:270*270(106*106inches)
2 pieces Pillowcases:51*92cm(20*36inches)
Super King Size 4pcs
1 piece Duvet Cover: 260*240cm(102.3*94inches)
1 piece Bedsheet:270*270(106*106inches)
2 pieces Pillowcases:48*74cm(19*30inches)
Double Size 7pcs
1 piece Duvet Cover: 200*200cm(79*79inches)
1 piece Bedsheet:245*250(96*98inches)
2 pieces Pillowcases:48*74cm(19*30inches)
2 pieces Square pillowcases:60*60cm(24*24inches)
1 piece Small pillowcase
Queen Size 7pcs
1 piece Duvet Cover: 200*230cm(79*91inches)
1 piece Bedsheet:245*250(96*98inches)
2 pieces Pillowcases:48*74cm(19*30inches)
2 pieces Square pillowcases:60*60cm(24*24inches)
1 piece Small pillowcase
King Size 7pcs
1 piece Duvet Cover: 220*240cm(87*94inches)
1 piece Bedsheet:245*270(96*106inches)
2 pieces Pillowcases:48*74cm(19*30inches)
2 pieces Square pillowcases:60*60cm(24*24inches)
1 piece Small pillowcase
US Queen Size 7pcs
1 piece Duvet Cover: 230*230cm(91*91inches)
1 piece Bedsheet:245*270(96*106inches)
2 pieces Pillowcases:48*74cm(19*30inches)
2 pieces Square pillowcases:60*60cm(24*24inches)
1 piece Small pillowcase
US King Size 7pcs
1 piece Duvet Cover: 264*230cm(104*91inches)
1 piece Bedsheet:270*270(106*106inches)
2 pieces Pillowcases:51*92cm(20*36inches)
2 pieces Square pillowcases:60*60cm(24*24inches)
1 piece Small pillowcase
Super King Size 7pcs
1 piece Duvet Cover: 260*240cm(102.3*94inches)
1 piece Bedsheet:270*270(106*106inches)
2 pieces Pillowcases:48*74cm(19*30inches)
2 pieces Square pillowcases:60*60cm(24*24inches)
Fitted sheet style
Double Size 4pcs
1 piece Duvet Cover: 200*200cm(79*79inches)
1 piece fitted sheet:150*200+25(59*79+9.8inches)
2 pieces Pillowcases:48*74cm(19*30inches)
Queen Size 4pcs
1 piece Duvet Cover: 200*230cm(79*91inches)
1 piece fitted sheet:160*200+25(63*79+9.8inches)
2 pieces Pillowcases:48*74cm(19*30inches)
King Size 4pcs
1 piece Duvet Cover: 220*240cm(87*94inches)
1 piece fitted sheet:180*200+25(71*79+9.8inches)
2 pieces Pillowcases:48*74cm(19*30inches)
US Queen Size 4pcs
1 piece Duvet Cover: 230*230cm(91*91inches)
1 piece fitted sheet:155*205+32(61*81+12.5inches)
2 pieces Pillowcases:48*74cm(19*30inches)
US King Size 4pcs
1 piece Duvet Cover: 264*230cm(104*91inches)
1 piece fitted sheet:195*205+32(77*81+12.5inches)
2 pieces Pillowcases:51*92cm(20*36inches)
Super King Size 4pcs
1 piece Duvet Cover: 260*240cm(102.3*94inches)
1 piece fittedsheet:185*215+32(73*85+12.5inches)
2 pieces Pillowcases:48*74cm(19*30inches)
Double Size 7pcs
1 piece Duvet Cover: 200*200cm(79*79inches)
1 piece fitted sheet:150*200+25(59*79+9.8inches)
2 pieces Pillowcases:48*74cm(19*30inches)
2 pieces Square pillowcases:60*60cm(24*24inches)
1 piece Small pillowcase
Queen Size 7pcs
1 piece Duvet Cover: 200*230cm(79*91inches)
1 piece fitted sheet:160*200+25(63*79+9.8inches)
2 pieces Pillowcases:48*74cm(19*30inches)
2 pieces Square pillowcases:60*60cm(24*24inches)
1 piece Small pillowcase
King Size 7pcs
1 piece Duvet Cover: 220*240cm(87*94inches)
1 piece fitted sheet:180*200+25(71*79+9.8inches)
2 pieces Pillowcases:48*74cm(19*30inches)
2 pieces Square pillowcases:60*60cm(24*24inches)
1 piece Small pillowcase
US Queen Size 7pcs
1 piece Duvet Cover: 230*230cm(91*91inches)
1 piece fitted sheet:155*205+32(61*81+12.5inches)
2 pieces Pillowcases:48*74cm(19*30inches)
2 pieces Square pillowcases:60*60cm(24*24inches)
1 piece Small pillowcase
US King Size 7pcs
1 piece Duvet Cover: 264*230cm(104*91inches)
1 piece fitted sheet:195*205+32(77*81+12.5inches)
2 pieces Pillowcases:51*92cm(20*36inches)
2 pieces Square pillowcases:60*60cm(24*24inches)
1 piece Small pillowcase
Super King Size 7pcs
1 piece Duvet Cover: 260*240cm(102.3*94inches)
1 piece fittedsheet:185*215+32(73*85+12.5inches)
2 pieces Pillowcases:48*74cm(19*30inches)
2 pieces Square pillowcases:60*60cm(24*24inches)
1 piece Small pillowcase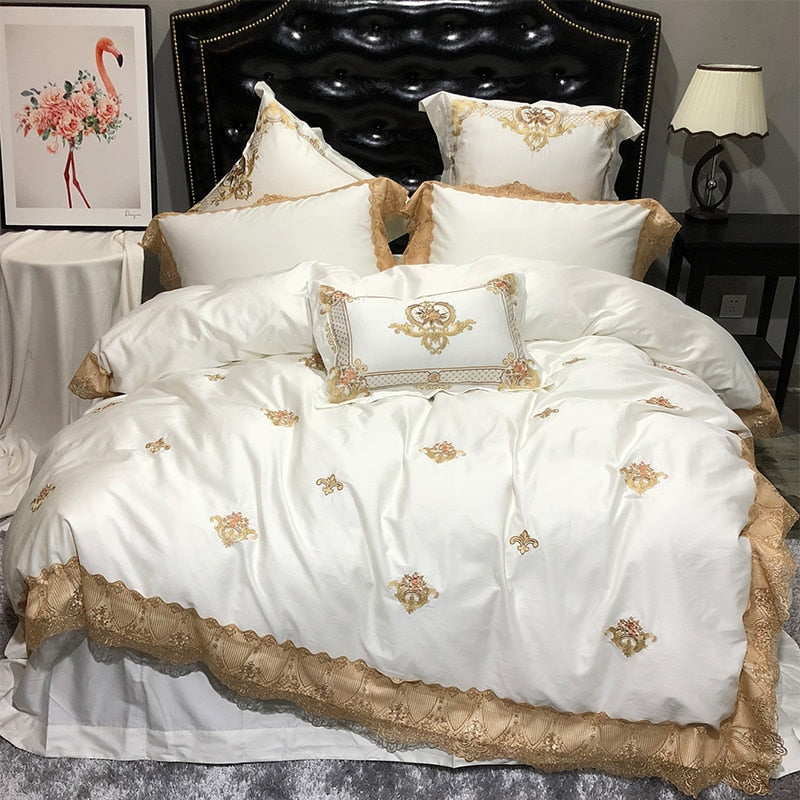 Hortensia Egyptian Cotton Duvet Cover
Sale price

$249.95 USD
Regular price
Choose options