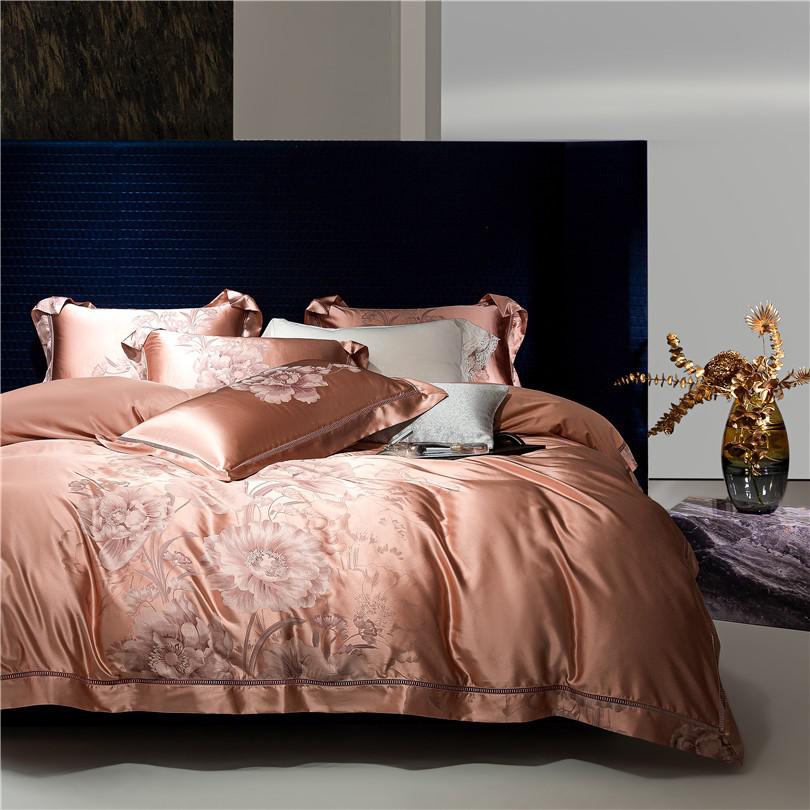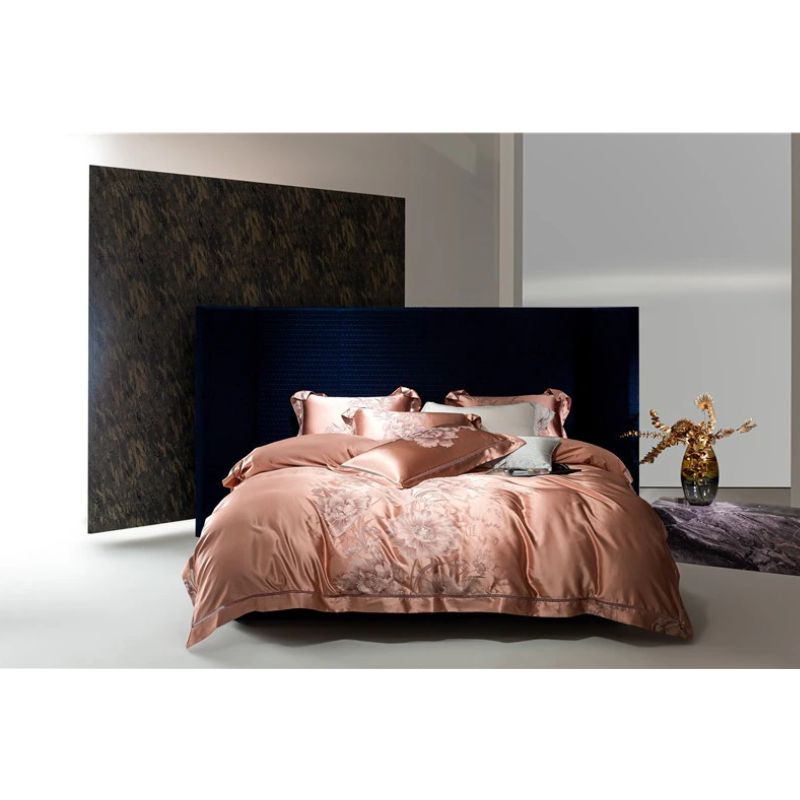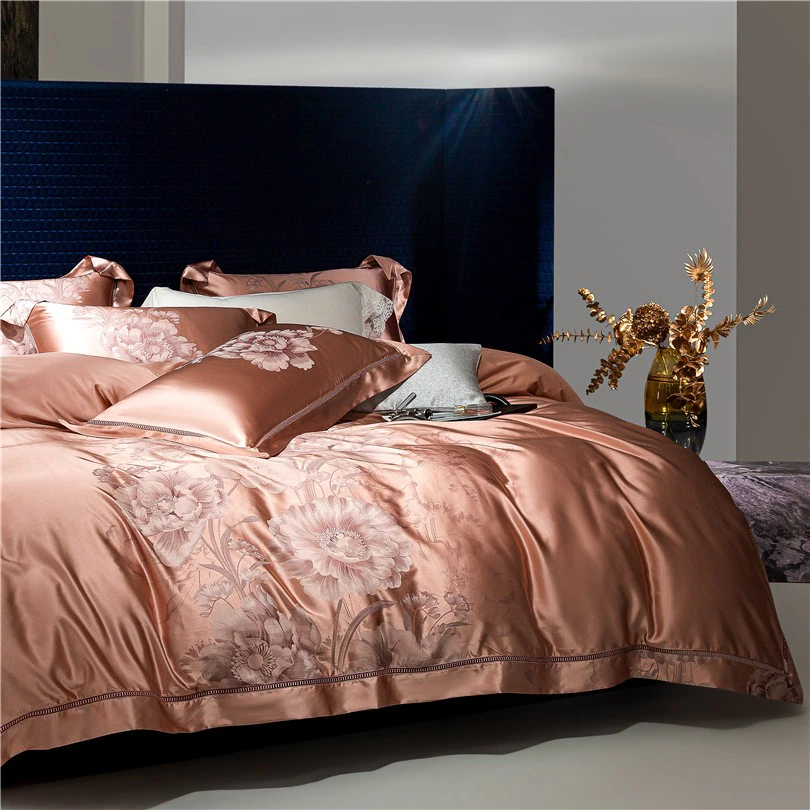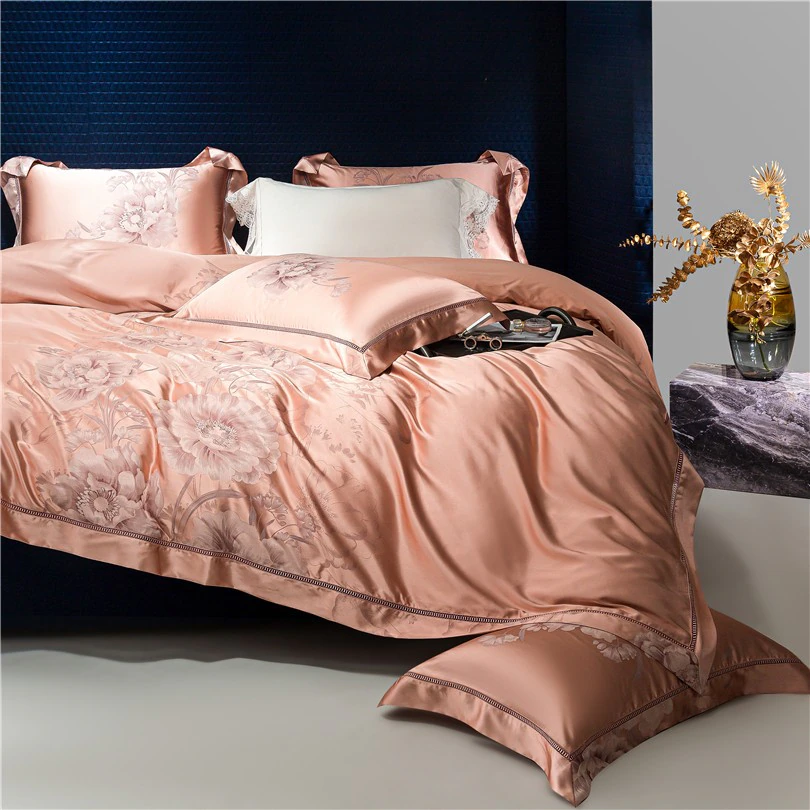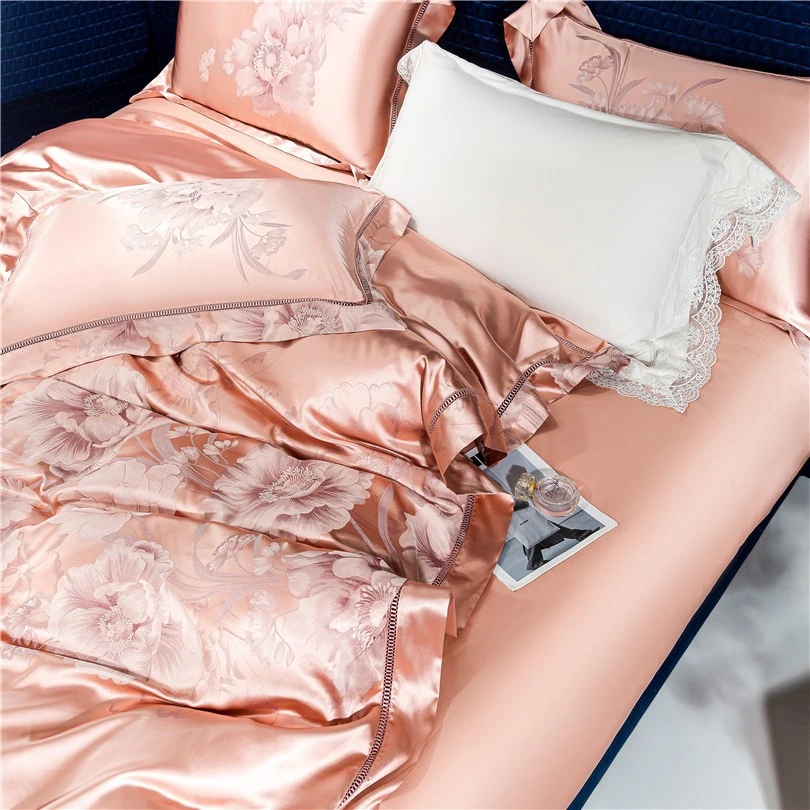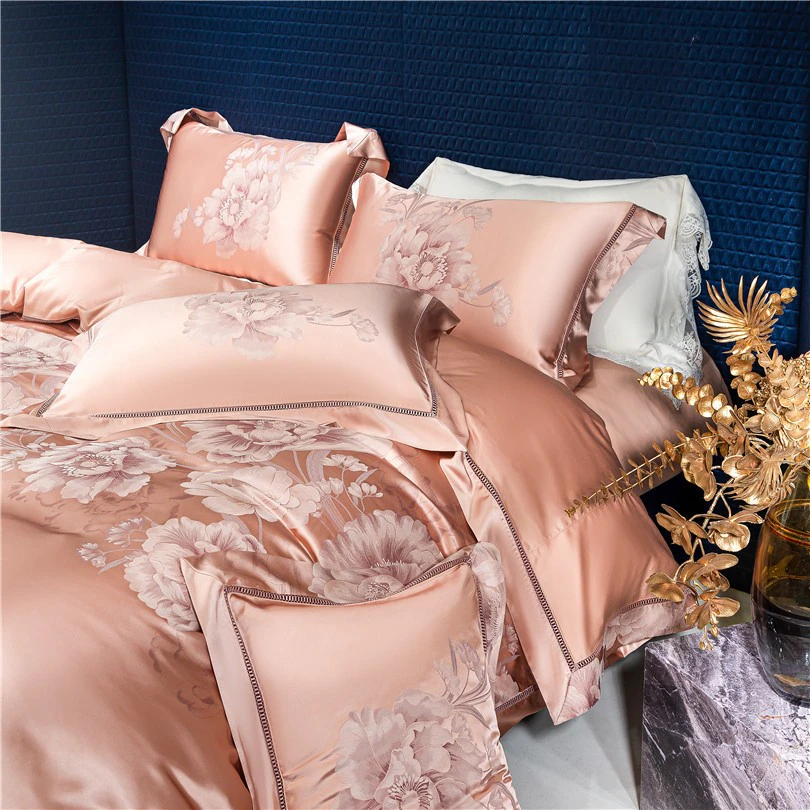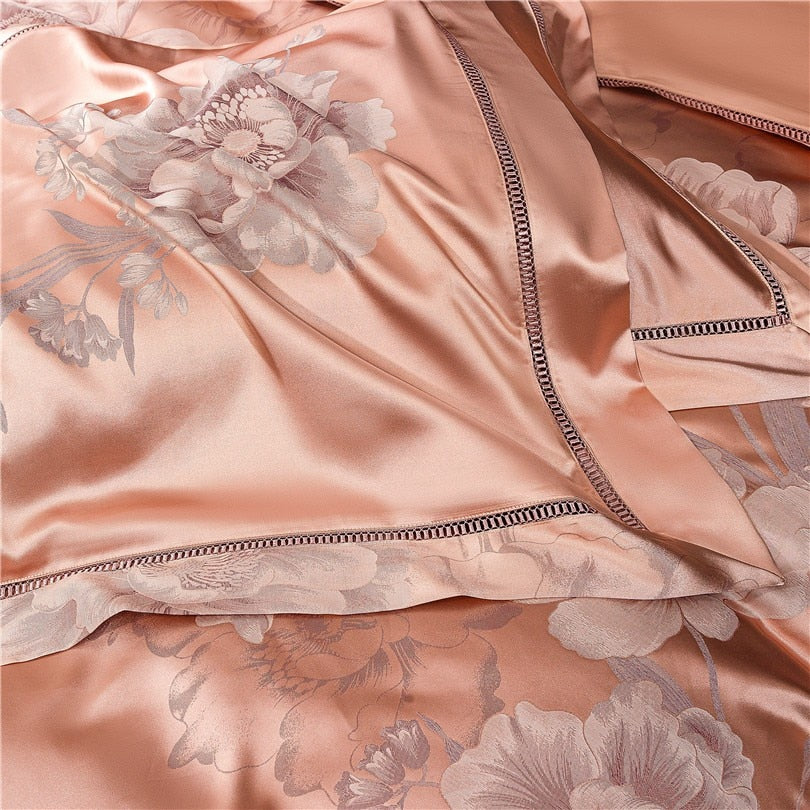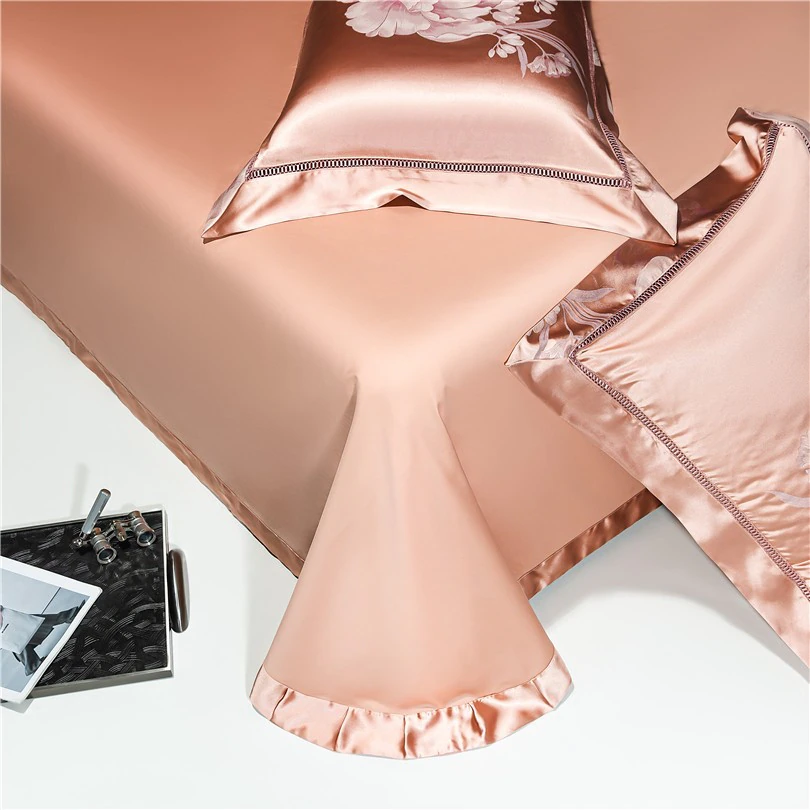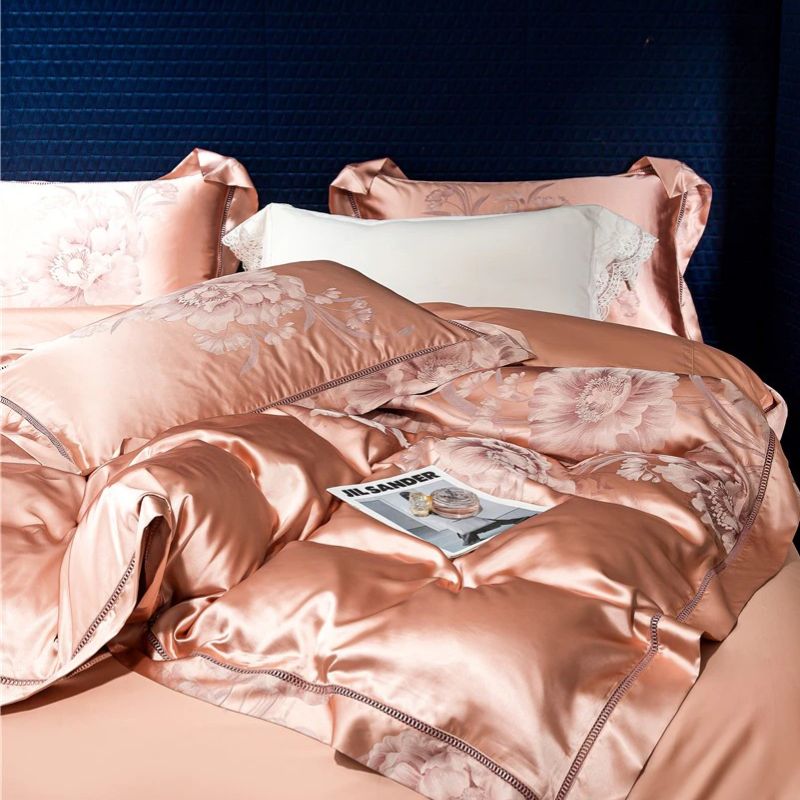 Experience the Bliss of Dreamlike Comfort with our 
Pantai Satin Egyptian Cotton Duvet Cover.
Indulge in the unparalleled softness of 100% Egyptian cotton and the silky smooth satin finish that beckons you to dive into bed. The lustrous peach hue adds a touch of sophistication, instantly giving your bedroom a chic and inviting atmosphere.
Features:
Our Pantai Satin Duvet Cover is crafted from 100% Egyptian cotton, the gold standard of bedding materials, ensuring you experience the epitome of softness and quality.
Revel in the luxurious satin finish that adds an elegant sheen to your bedroom, instantly upgrading your decor and making your bed the room's centerpiece.
The soothing and inviting peach color transforms your bedroom into a haven of warmth and relaxation, creating a calming and chic atmosphere.
A thoughtful and practical gift for loved ones, this duvet cover is a gift that keeps on giving, offering the gift of extraordinary sleep quality and style.
Product Specifications:Material:
 Cotton
Sizes:Flat sheet styleDouble size 200X200cm 4Pcs
1 piece Duvet Cover: 200*200cm(79*79inches)
1 piece Flat bed sheet: 245*250cm(96*98inches)
2 pieces Pillowcases: 48*74cm(19*30inches)
Queen size 200X220cm 4pcs
1 piece Duvet Cover: 200*220cm(79*87inches)
1 piece Flat bed sheet: 245*250cm(96*98inches)
2 pieces Pillowcases: 48*74cm(19*30inches)
Queen size 200X230cm 4pcs
1 piece Duvet Cover: 200*230cm(79*91inches)
1 piece Flat bed sheet: 245*250cm(96*98inches)
2 pieces Pillowcases: 48*74cm(19*30inches)
King size 220X240cm 4pcs
1 piece Duvet Cover: 220*240cm(87*94inches)
1 piece Flat bed sheet: 245*270cm(96*106inches)
2 pieces Pillowcases: 48*74cm(19*30inches)
Double size 200X200cm 6Pcs
1 piece Duvet Cover: 200*200cm(79*79inches)
1 piece Flat bed sheet: 245*250cm(96*98inches)
4 pieces Pillowcases: 48*74cm(19*30inches)
Queen size 200X220cm 6pcs
1 piece Duvet Cover: 200*220cm(79*87inches)
1 piece Flat bed sheet: 245*250cm(96*98inches)
4 pieces Pillowcases: 48*74cm(19*30inches)
Queen size 200X230cm 6pcs
1 piece Duvet Cover: 200*230cm(79*91inches)
1 piece Flat bed sheet: 245*250cm(96*98inches)
4 pieces Pillowcases: 48*74cm(19*30inches)
King size 220X240cm 6pcs
1 piece Duvet Cover: 220*240cm(87*94inches)
1 piece Flat bed sheet: 245*270cm(96*106inches)
4 pieces Pillowcases: 48*74cm(19*30inches)
Fitted sheet styleDouble size200X200cm 4Pcs
1 piece Duvet Cover: 200*200cm(79*79inches)
1 piece Fitted sheet : 150*200+25cm(59*79+9.8inches)
2 pieces Pillowcases: 48*74cm(19*30inches)
Queen size 200X220cm 4pcs
1 piece Duvet Cover: 200*220cm(79*87inches)
1 piece Fitted sheet : 160*200+25cm(63*79+9.8inches)
2 pieces Pillowcases: 48*74cm(19*30inches)
Queen size 200X230cm 4pcs
1 piece Duvet Cover: 200*230cm(79*91inches)
1 piece Fitted sheet : 160*200+25cm(63*79+9.8inches)
2 pieces Pillowcases: 48*74cm(19*30inches)
King size 220X240cm 4pcs
1 piece Duvet Cover: 220*240cm(87*94inches)
1 piece Fitted Sheet: 180*200+25cm(71*79+9.8inches)
2 pieces Pillowcases: 48*74cm(19*30inches)
Double size200X200cm 6Pcs
1 piece Duvet Cover: 200*200cm(79*79inches)
1 piece Fitted sheet : 150*200+25cm(59*79+9.8inches)
4 pieces Pillowcases: 48*74cm(19*30inches)
Queen size 200X220cm 6pcs
1 piece Duvet Cover: 200*220cm(79*87inches)
1 piece Fitted sheet : 160*200+25cm(63*79+9.8inches)
4 pieces Pillowcases: 48*74cm(19*30inches)
Queen size 200X230cm 6pcs
1 piece Duvet Cover: 200*230cm(79*91inches)
1 piece Fitted sheet : 160*200+25cm(63*79+9.8inches)
4 pieces Pillowcases: 48*74cm(19*30inches)
King size 220X240cm 6pcs
1 piece Duvet Cover: 220*240cm(87*94inches)
1 piece Fitted Sheet: 180*200+25cm(71*79+9.8inches)
4 pieces Pillowcases: 48*74cm(19*30inches)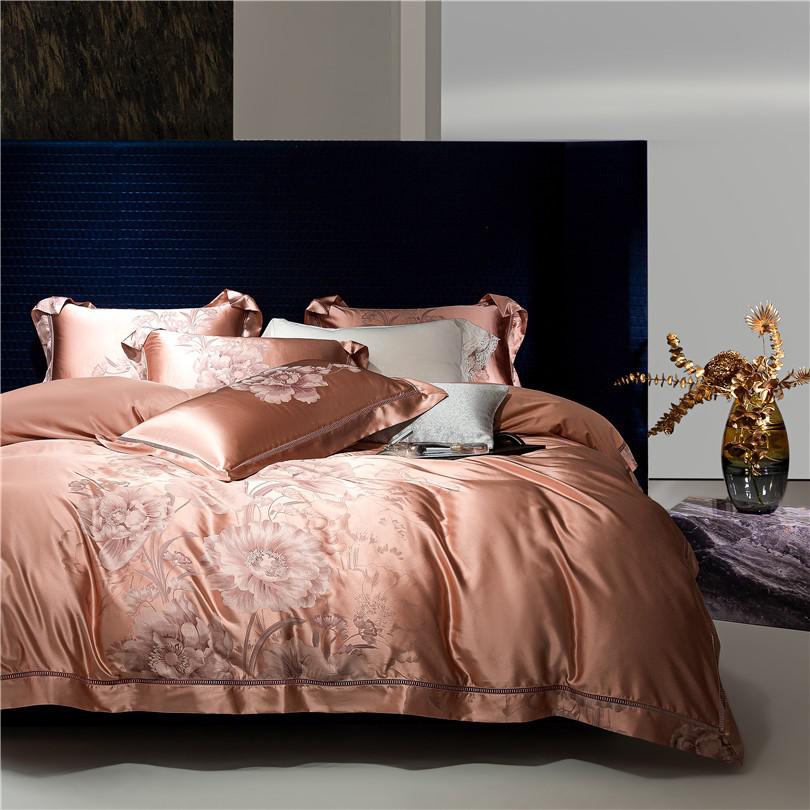 Pantai Satin Egyptian Cotton Duvet Cover
Sale price

$259.95 USD
Regular price
Choose options